Wonderland feat. Cortés Kimberly
Nouveau clip vidéo maintenant disponible !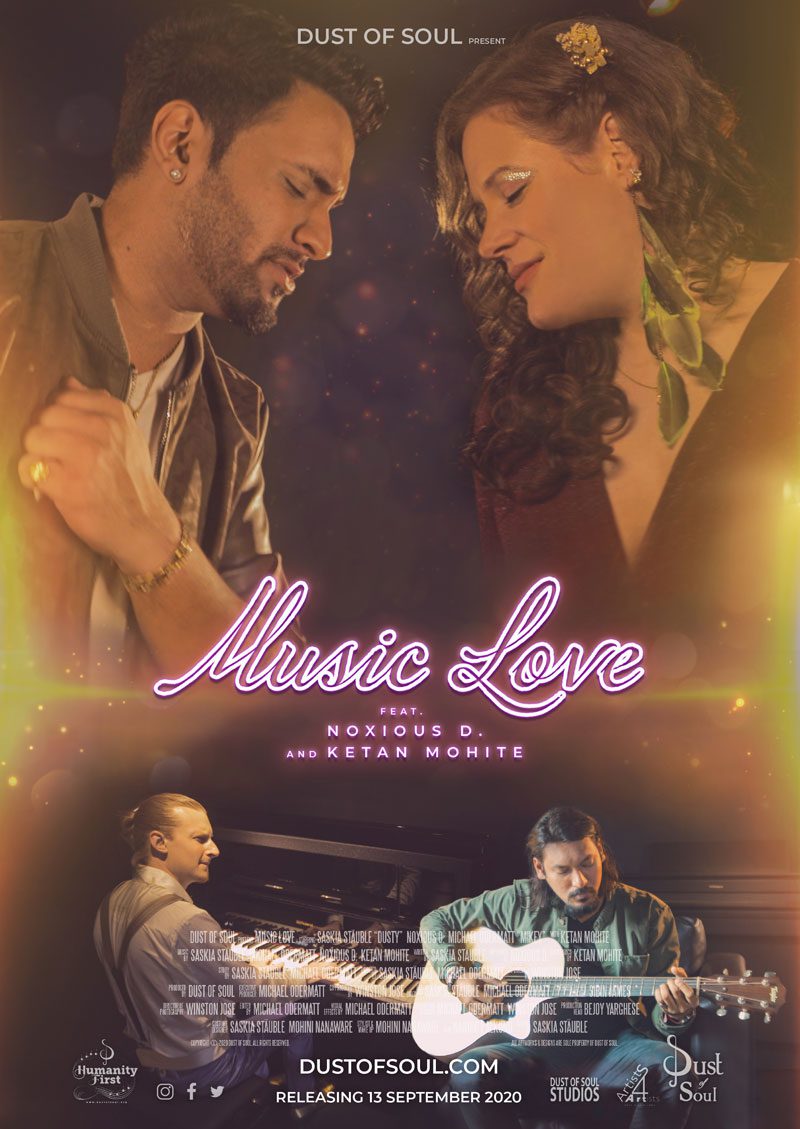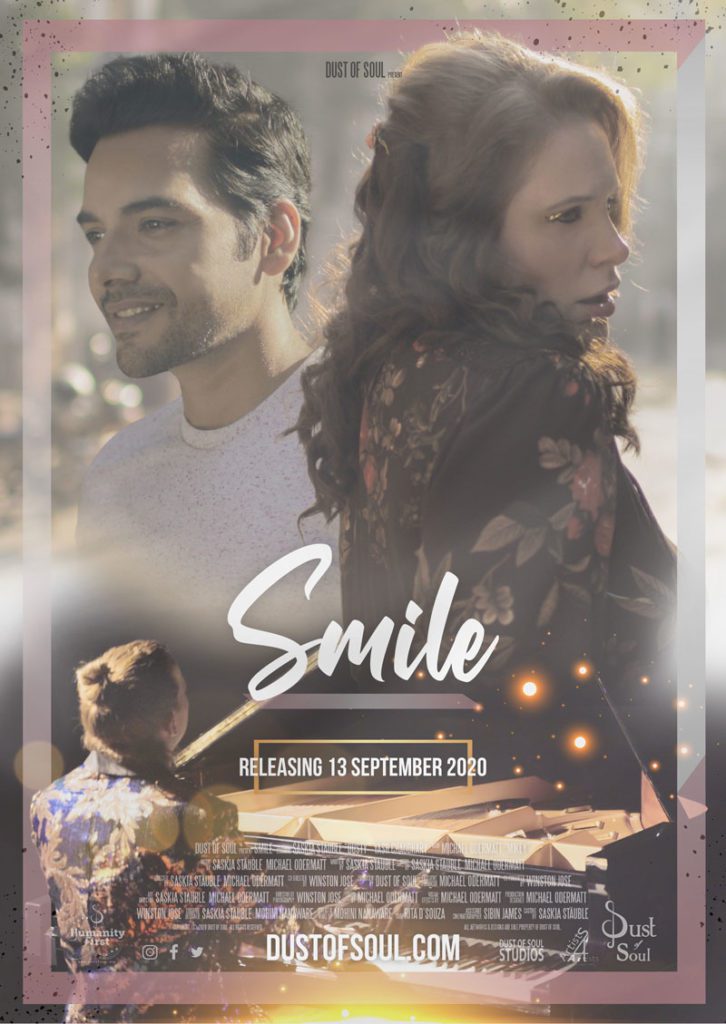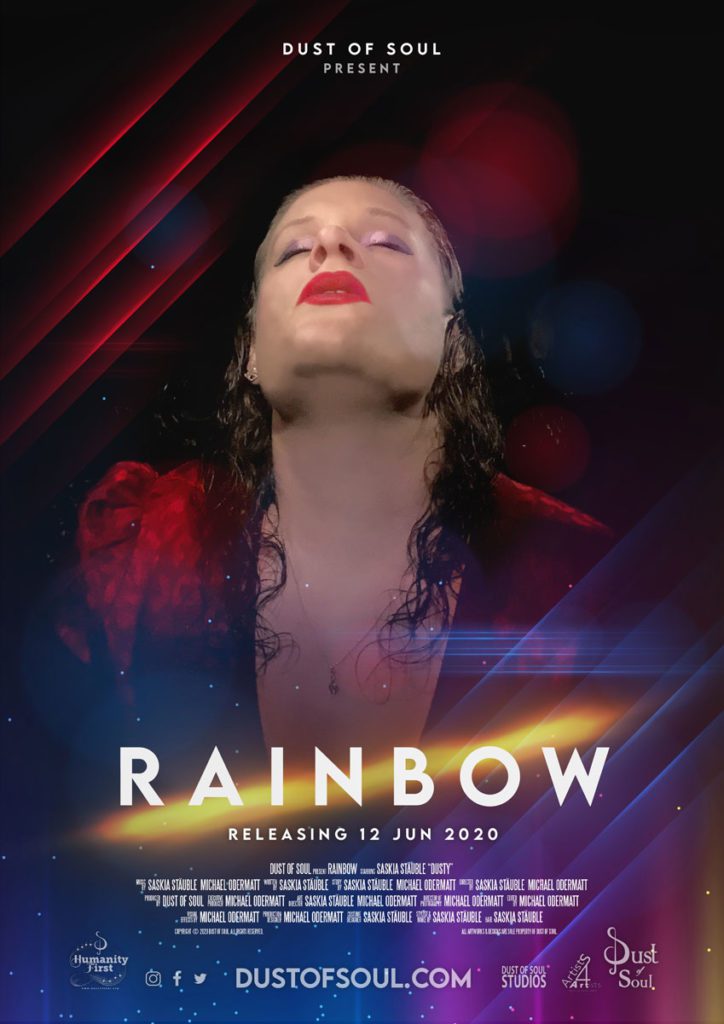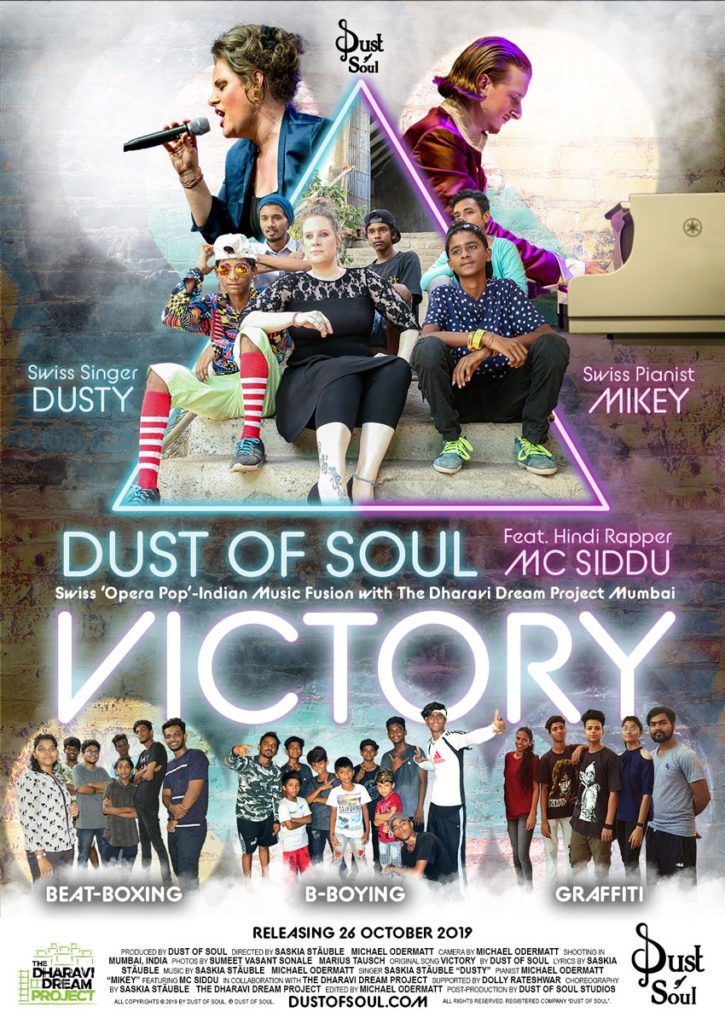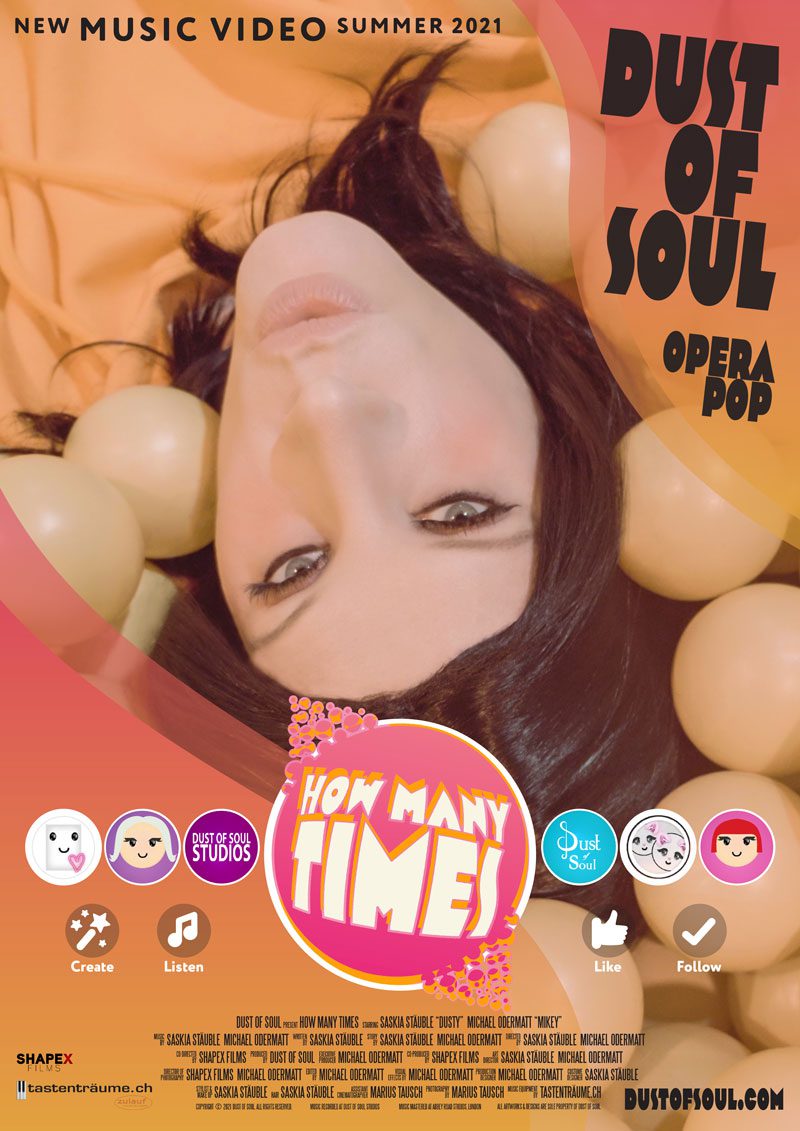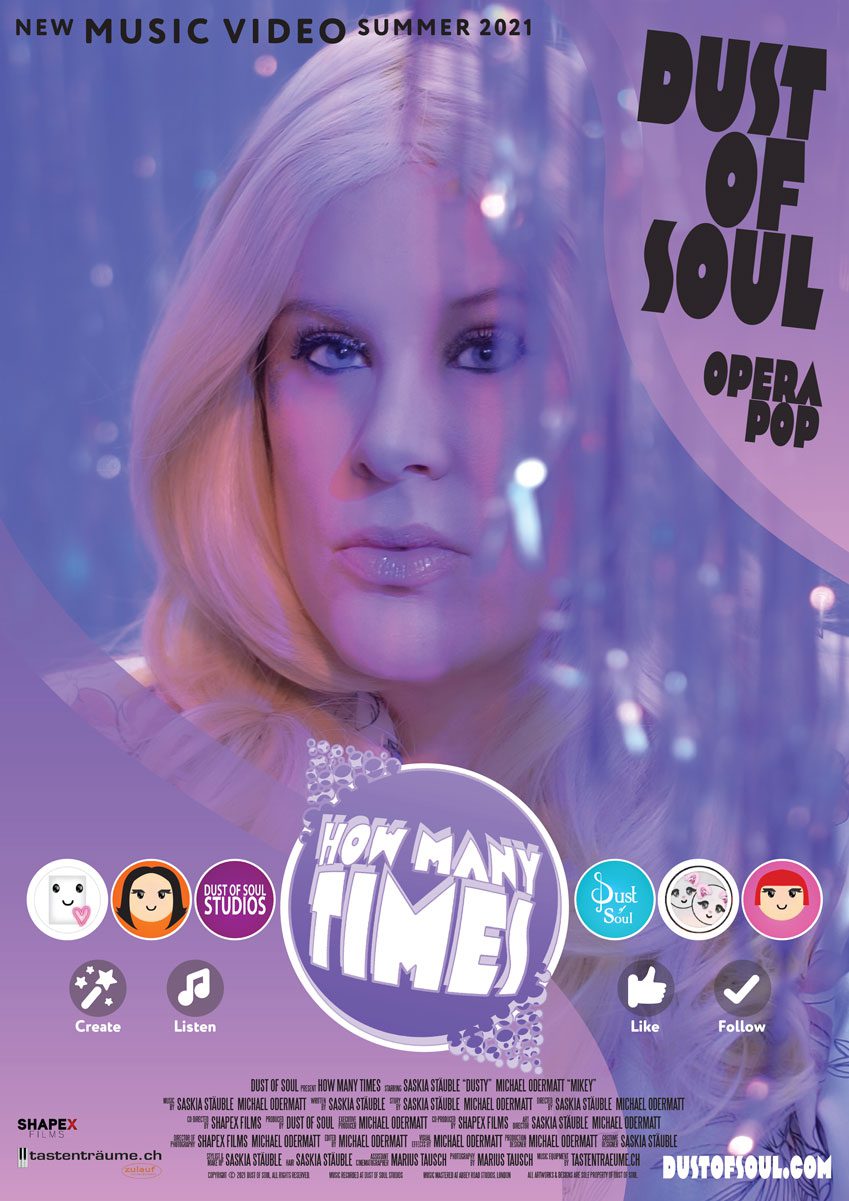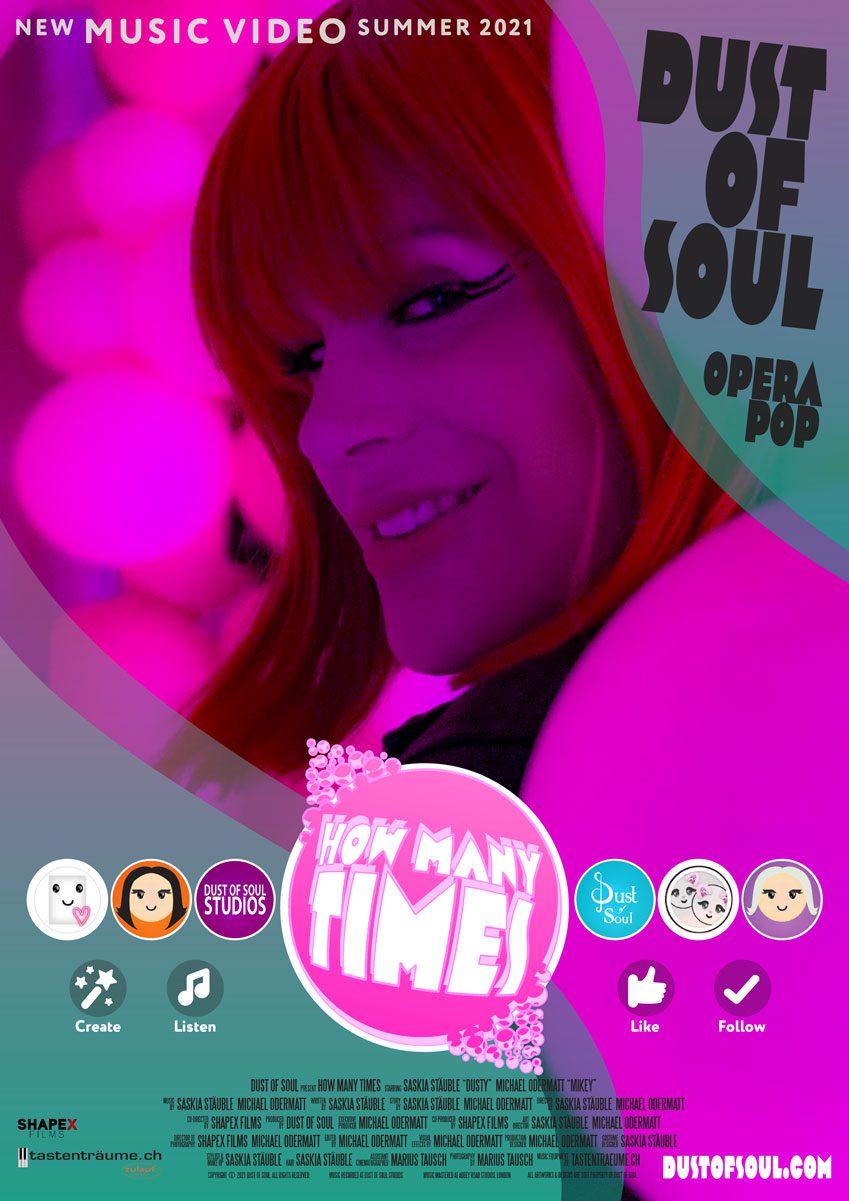 DUST OF SOUL "POSITIVE MUSIC POWER"
OPERA-POP CONCERT
Toutes les chan­sons orig­i­nales de Dust of Soul avec beau­coup de puis­sance, des influ­ences pop engageantes, des bal­lades légères, des rythmes énergiques et un charme émouvant
MOTIVATION-PAROLE
Des his­toires vraies, comme l'ap­pari­tion le jour de l'an­niver­saire du sul­tan d'O­man, ou le clip vidéo tourné dans les bidonvilles de l'Inde
VOTRE ÉNERGIE — VOTRE CHANSON
Votre pro­pre chan­son, com­posée en direct par Dust of Soul pen­dant la per­for­mance — en privé pour vous ou lors de votre événement
MUSIC SOULING
Nou­velle expéri­ence musi­cale unique : la musique se trans­forme en couleurs — Trou­vez de nou­velles idées pour vous-même
FORMATION EN MUSIQUE MENTALE
Apportez la musique à vos côtés et ressen­tez la puis­sance — un entraîne­ment men­tal pour tout le monde

«Style de mode artistique exceptionnel. Excellente présence scénique. Extrêmement descriptif. Très interactif.»

— Berklee Col­lege of Music

«Le duo sensationnel de Suisse» à l'émission MTV India avec Bollywood Superstars
— MTV India Unplugged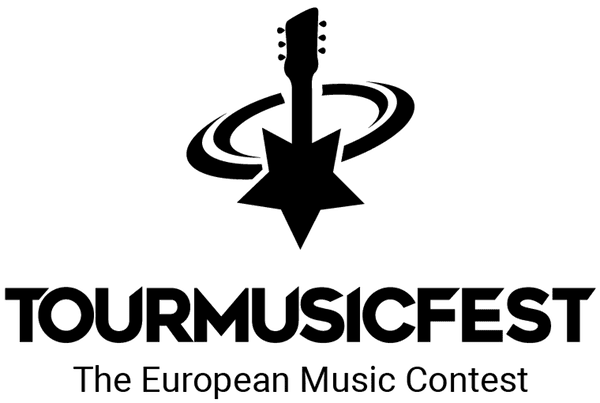 Top 10 des finalistes nationaux en Suisse au concours européen »Tour Music Fest«

— Tour Music Fest

Prix ​​décerné à Dust of Soul pour leur contribution au monde de la musique
— Gir­i­ja Baqer Art Foundation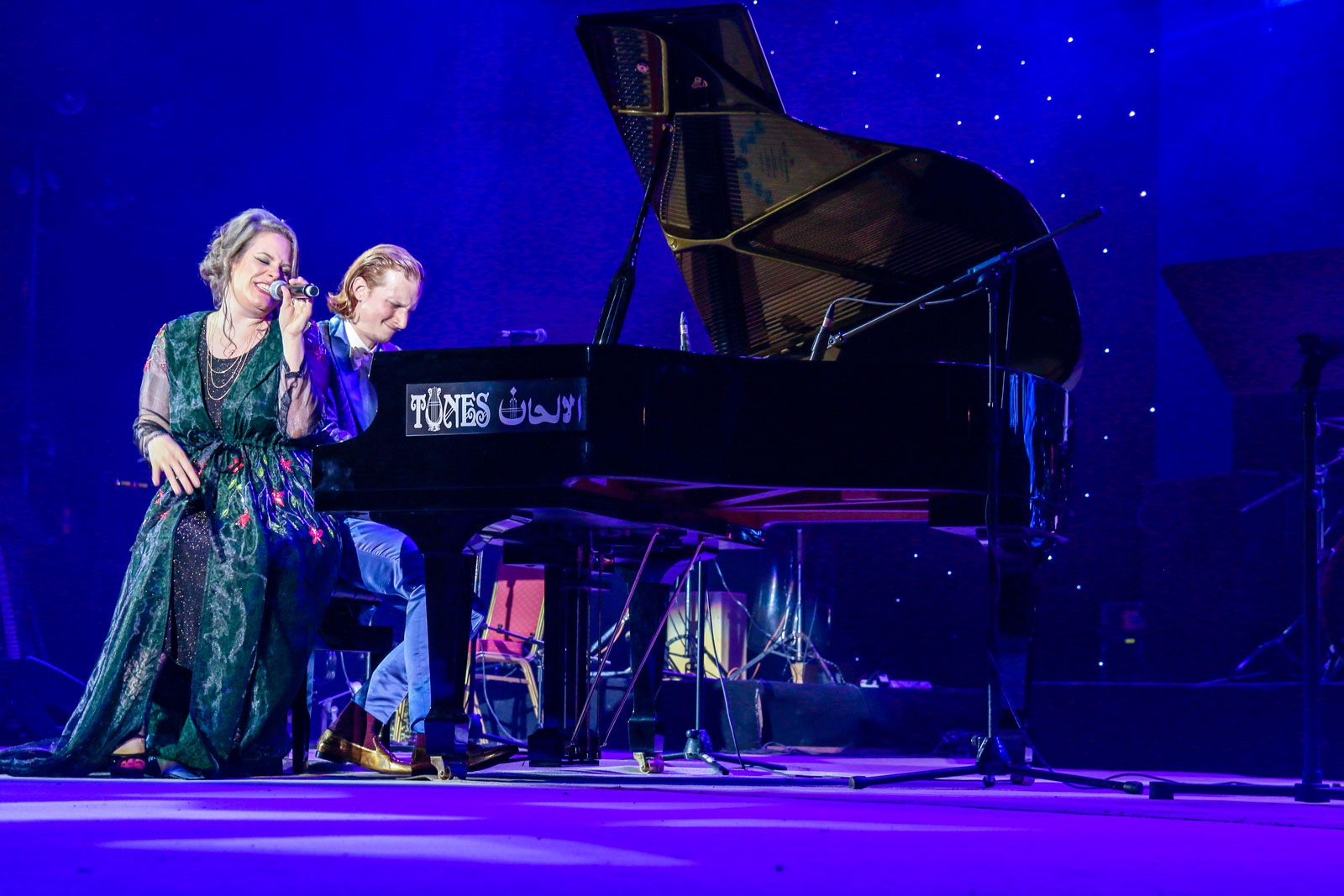 Dust of Soul est for­mé par deux artistes suiss­es : le chanteur Dusty de Bâle et le pianiste MiKey de Lucerne. Dust of Soul est Pos­i­tive Music Pow­er com­binée à une voix dis­tincte­ment forte et unique et à un piano puis­sant et engageant. Le style : Opéra/Pop, Soul/Pop. Toutes les chan­sons sont écrites et com­posées musi­cale­ment par les deux artistes. Ils racon­tent des his­toires d'ami­tiés du monde entier, des his­toires de défis quo­ti­di­ens, et de ne jamais aban­don­ner un rêve.
Dust of Soul appa­raît inter­na­tionale­ment en duo. Au cours des neuf dernières années, ils ont par­cou­ru 10 pays sur 4 con­ti­nents : États-Unis, Suisse, Tunisie, Ital­ie, Alle­magne, France, Turquie, Oman, Inde et Liechtenstein.
Les musi­ciens con­va­in­quent non seule­ment par leur com­po­si­tion au sens tra­di­tion­nel du terme, mais aus­si par leur tal­ent à créer de nou­velles chan­sons en direct sur scène. Cela crée une prox­im­ité jamais vécue entre l'artiste et le public.
Après avoir com­mencé leur car­rière musi­cale à Lucerne, en Suisse, en juil­let 2012, Dust of Soul a vécu à New York City pen­dant six mois pour mieux se con­naître en tant qu'artistes et recueil­lir ses pre­mières expéri­ences en jouant ensem­ble en duo.
Avec une com­mu­nauté gran­dis­sante sur les réseaux soci­aux, 220'000 fans ont emmené Dust of Soul dans divers pays exo­tiques : 2013 en Tunisie, 2016 au Sul­tanat d'O­man au Moyen-Ori­ent et 2019 en Inde.
Les points forts de leur car­rière musi­cale sont les spec­ta­cles à l'opéra Teatro Dal Verme de MILAN, dans la salle de con­cert NEW YORK WMP Con­cert Hall, le célèbre et pres­tigieux château suisse Château Gütsch à LUCERNE, le spec­tac­u­laire champ de glace Live on Ice comme à ZURICH, l'his­torique Acrop­oli­um de Carthage à CARTHAGE, Tunisie, et l'émis­sion MTV India avec la Super­star de Bol­ly­wood Ayush­mann Khu­rana au City Amphithe­atre Qurum à MUSCAT, Oman.
En novem­bre 2018, Dust of Soul a reçu un prix de la Gir­i­ja Baqer Art Foun­da­tion pour sa con­tri­bu­tion au monde de la musique.
Leur pre­mier album Dust of Soul In Col­ors présente le chanteur et per­cus­sion­niste colom­bi­en Rodry-Go (célèbre pour ses per­for­mances sur scène avec Car­los San­tana, Anas­ta­sia, Deep Pur­ple). Dust of Soul est con­nu pour ses fusions et ses com­bi­naisons auda­cieuses : en 2019, ils mélan­gent opéra/pop avec du rap indi­en, du break­dance, du beat­box­ing et de l'art graf­fi­ti. Dust of Soul filme le clip dans le Dhar­avi (même endroit que Block­boast­er "Slum­dog Mil­lion­aire"). La sor­tie Vic­to­ry avec The Dhar­avi Dream Project Mum­bai obtient plus d'un demi-mil­lion de vues.
En 2020, Dust of Soul présente l'ac­teur indi­en de Bol­ly­wood Yash Choud­hary dans "Smile" et le rappeur indi­en Nox­ious D. (con­nu de "Gul­ly Boy") dans "Music Love". Les deux clips ont été tournés à Mumbai.
En 2021, Dust of Soul présente leur deux­ième album Won­der­land puis ont entamé leur « Won­der­land Tour 2021/2022 ».
En 2022, Dust of Soul sor­ti­ra le troisième sin­gle du nou­v­el album avec la sor­tie du clip vidéo : « Won­der­land » feat. Cortés Kim­ber­ly.