Wonderland feat. Cortés Kimberly
Nuevo video musical ya disponible!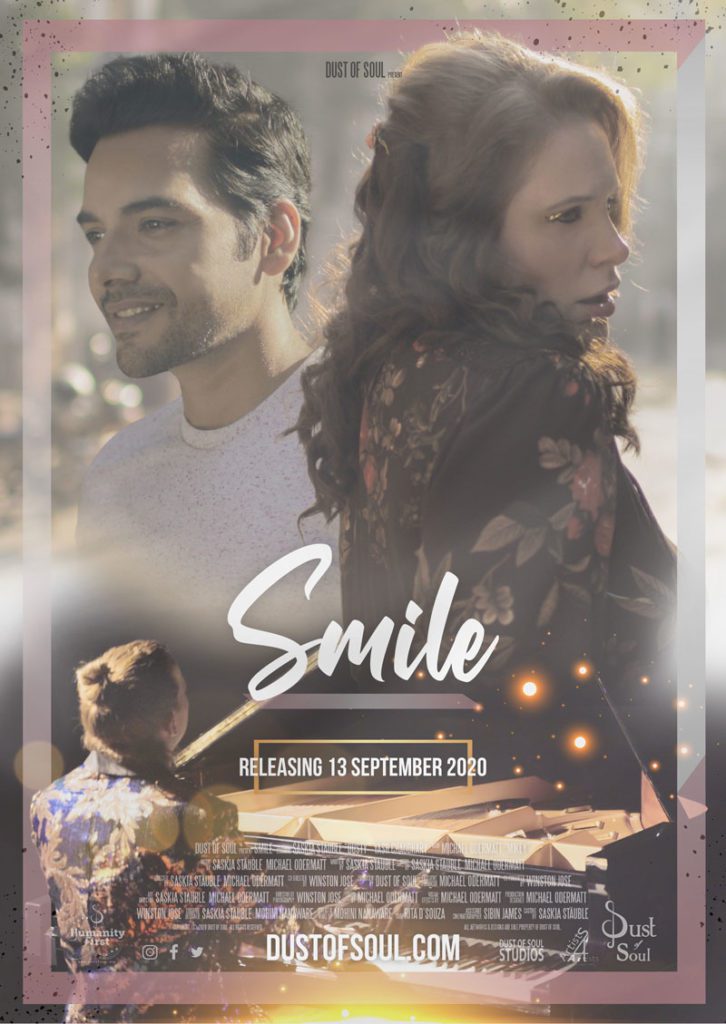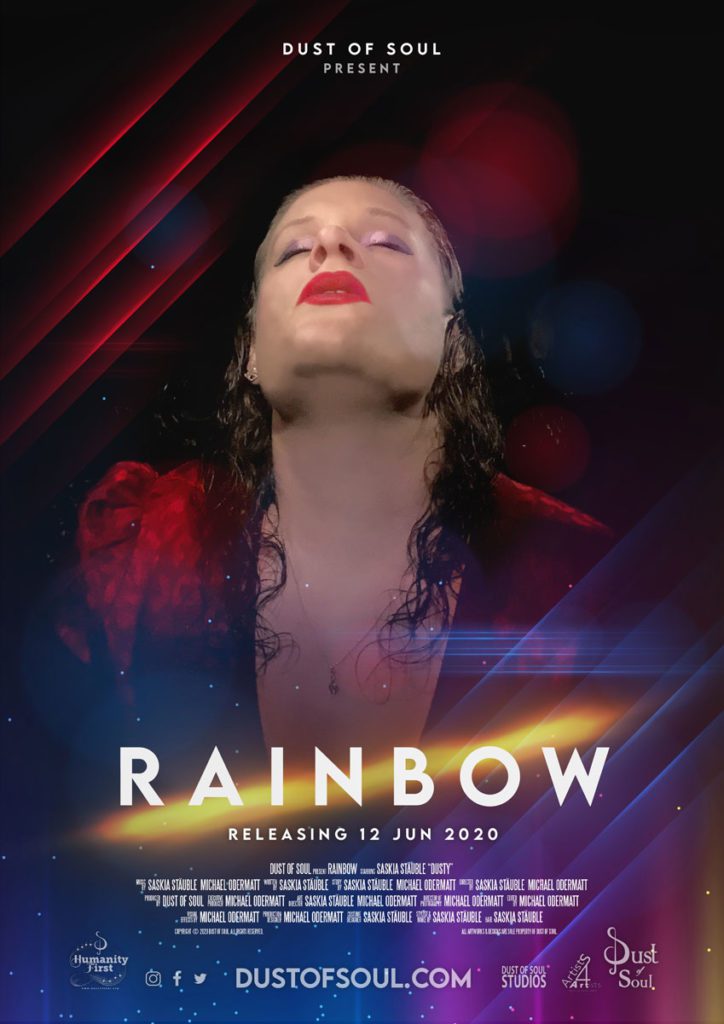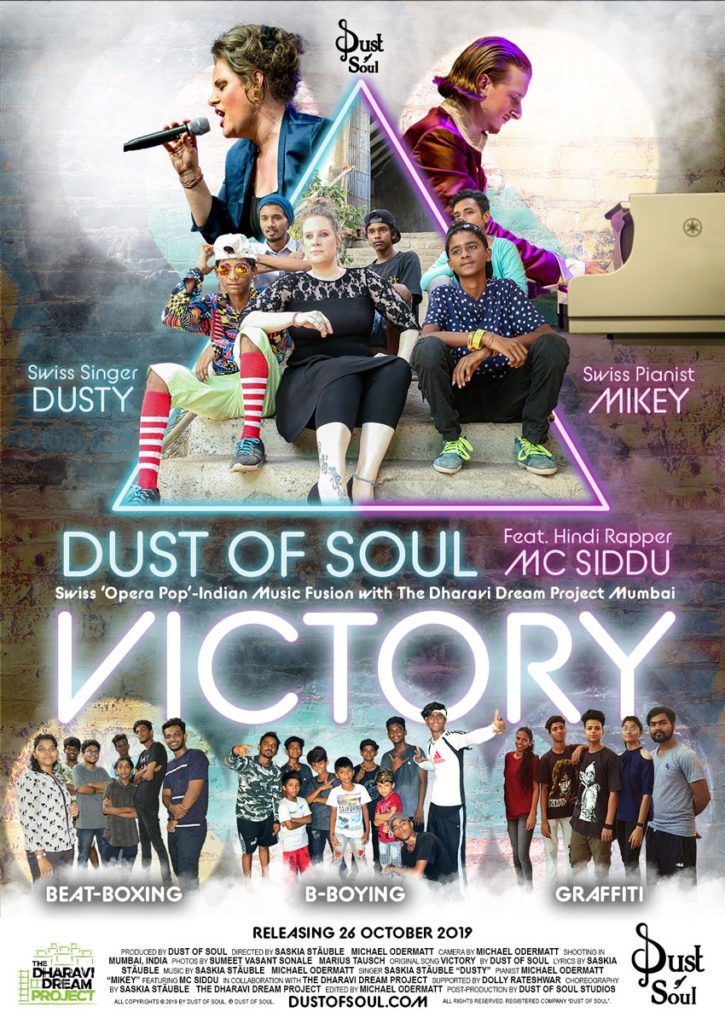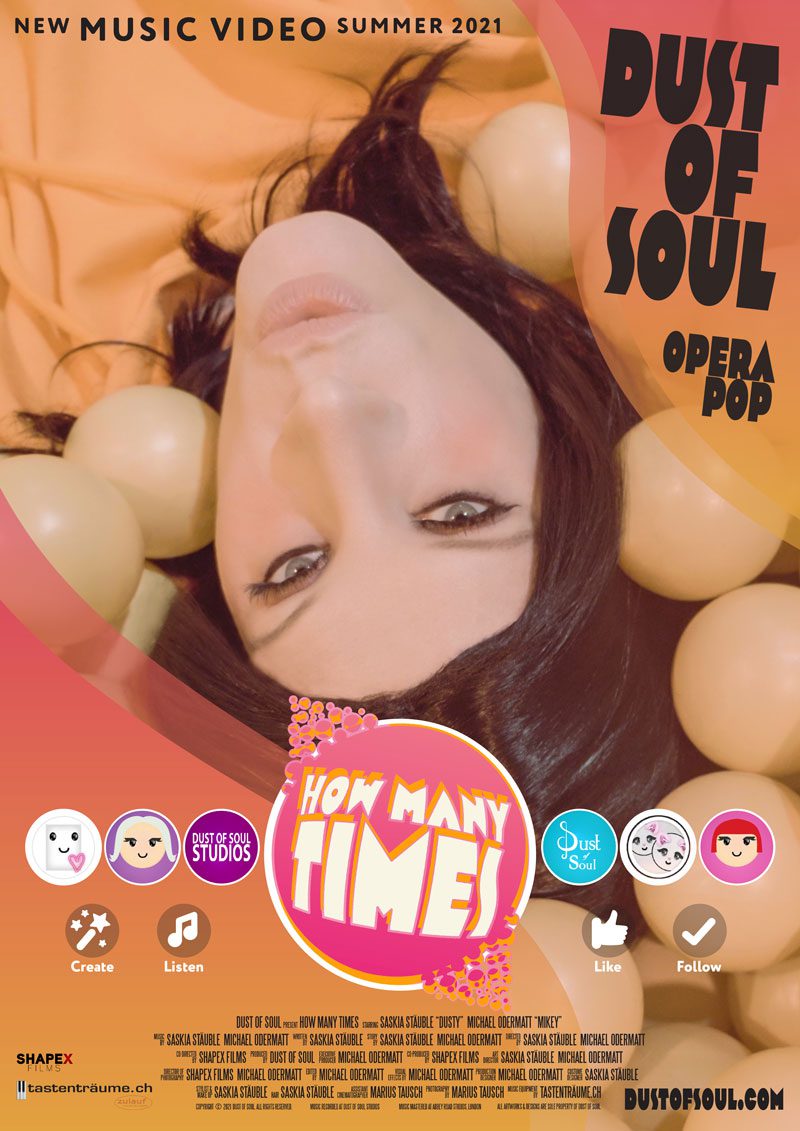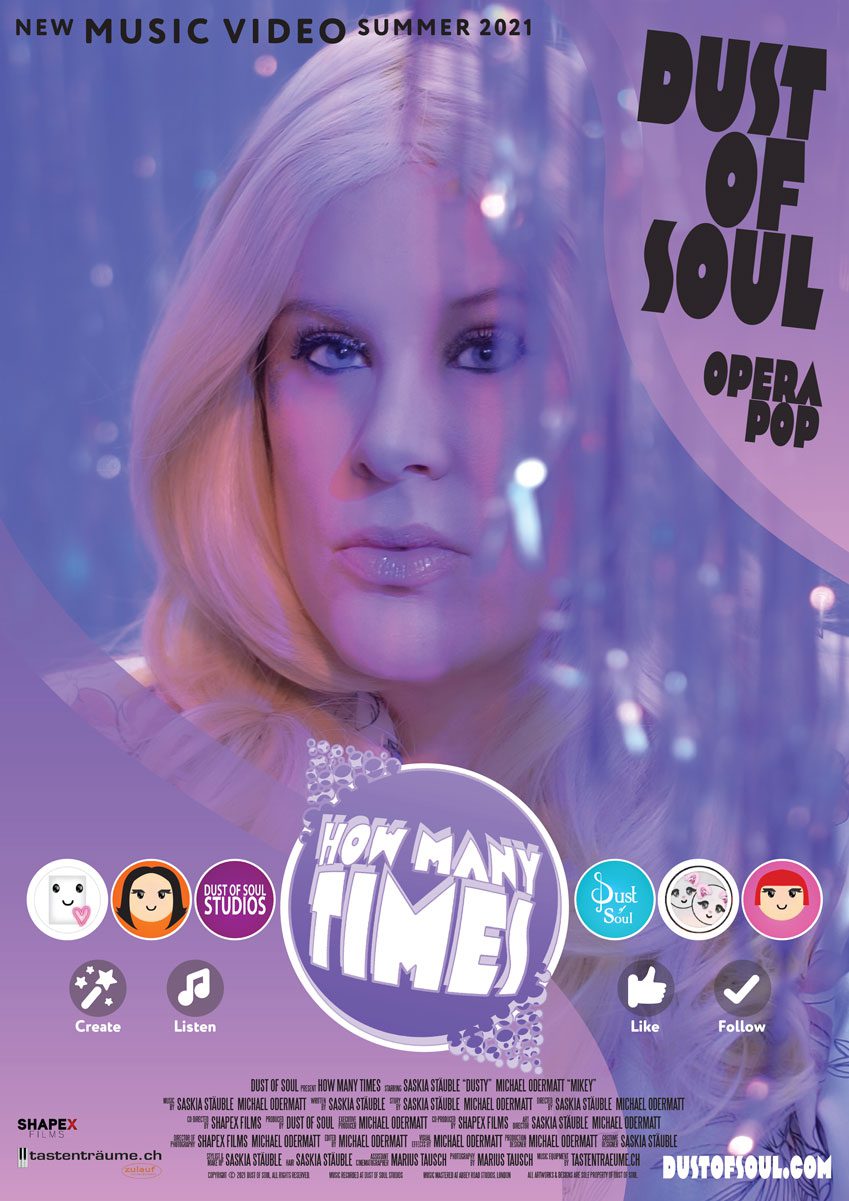 DUST OF SOUL "POSITIVE MUSIC POWER"
CONCIERTO
Todas las can­ciones orig­i­nales de Dust of Soul con mucho poder, atrac­ti­vas influ­en­cias pop, bal­adas lig­eras, rit­mos enér­gi­cos y encan­to conmovedor.
DISCURSO-MOTIVACIÓN
His­to­rias reales, como la apari­ción en el cumpleaños del sultán de Omán, o el roda­je de un vídeo musi­cal en los bar­rios mar­ginales de la India
TU ENERGÍA — TU CANCIÓN
Tu can­ción per­son­al, com­pues­ta en direc­to por Dust of Soul durante la actuación, en pri­va­do para ti o en tu evento
MUSIC SOULING
Nue­va expe­ri­en­cia musi­cal úni­ca: la músi­ca se vuelve de col­or — Encuen­tre nue­va infor­ma­ción por sí mismo
ENTRENAMIENTO DE MÚSICA MENTAL
Lle­va la músi­ca a tu lado y siente el poder: un entre­namien­to men­tal para todos

Estilo de arte excepcional. Excelente presencia escénica. Extremadamente descriptivo. Muy interactivo".

— Berklee Col­lege of Music

"El dúo sensacional de Suiza" en el programa de MTV India con superestrellas de Bollywood
— MTV India Unplugged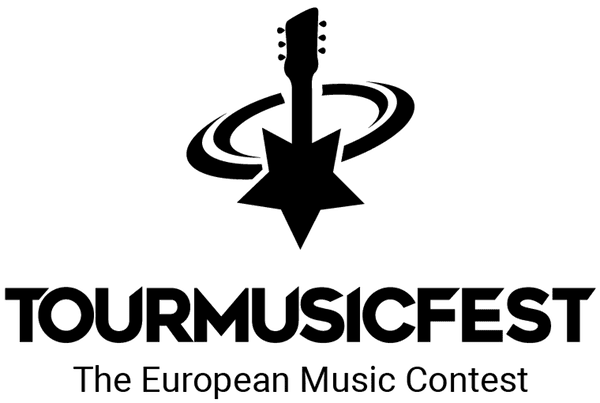 Los 10 mejores finalistas nacionales en Suiza en el concurso europeo "Tour Music Fest"

— Tour Music Fest
Premio otorgado a Dust of Soul por su contribución al mundo de la música
— Gir­i­ja Baqer Art Foundation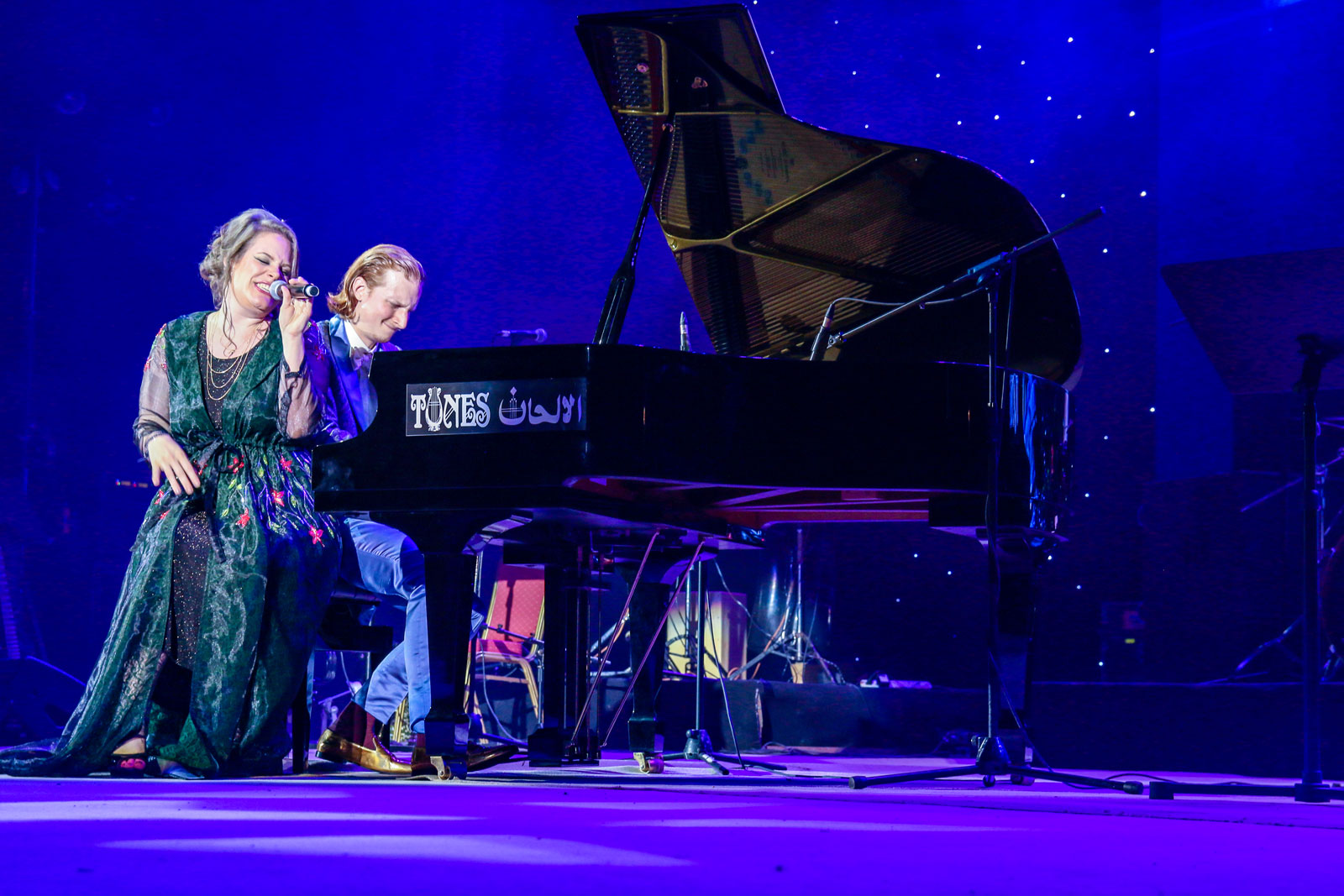 Dust of Soul está for­ma­do por dos artis­tas suizos: el can­tante Dusty de Bâle y el pianista MiKey de Lucer­na. Dust of Soul es Pos­i­tive Music Pow­er com­bi­na­do con una voz clara­mente fuerte y úni­ca y un piano cau­ti­vador y poderoso. El esti­lo: Ópera/Pop, Soul/Pop. Todas las can­ciones fueron orig­i­nal­mente escritas y com­pues­tas musi­cal­mente por ambos artis­tas. Cuen­tan his­to­rias de amis­tades de todo el mun­do, his­to­rias de desafíos diar­ios y de nun­ca aban­donar un sueño.
Dust of Soul aparece inter­na­cional­mente como dúo. En los últi­mos nueve años han gira­do por 10 país­es de 4 con­ti­nentes: USA, Suiza, Túnez, Italia, Ale­ma­nia, Fran­cia, Turquía, Omán, India y Liechtenstein.
Los músi­cos con­ven­cen no solo por su for­ma de escribir can­ciones en el sen­ti­do tradi­cional, sino tam­bién por su tal­en­to para crear nuevas can­ciones en direc­to sobre el esce­nario. Esto crea una cer­canía nun­ca antes exper­i­men­ta­da entre el artista y el público.
Después de comen­zar su car­rera musi­cal en Lucer­na, Suiza, en julio de 2012, Dust of Soul vivió en la ciu­dad de Nue­va York durante seis meses para cono­cerse mejor como artis­tas y recopi­lar sus primeras expe­ri­en­cias inter­pre­ta­ti­vas jun­tos como dúo.
Con una cre­ciente comu­nidad en las redes sociales, 220 000 fanáti­cos han lle­va­do Dust of Soul a var­ios país­es exóti­cos: en 2013 en Túnez, en 2016 en el Sul­tana­to de Omán en el Medio Ori­ente y en 2019 en India.
Los aspec­tos más desta­ca­dos de su car­rera musi­cal son las actua­ciones en el Teatro Dal Verme de MILÁN, en la sala de concier­tos de NUEVA YORK WMP Con­cert Hall, el cono­ci­do y pres­ti­gioso castil­lo suizo Château Gütsch en LUCERNA, la espec­tac­u­lar pista de hielo Live on Ice como en ZURICH, el históri­co Acrop­oli­um de Carthage en CARTHAGE, Túnez, y el espec­tácu­lo de MTV India con la super­estrel­la de Bol­ly­wood Ayush­mann Khu­rana en el City Amphithe­ater Qurum en MUSCAT, Omán.
En noviem­bre de 2018, Dust of Soul recibió un pre­mio de la Gir­i­ja Baqer Art Foun­da­tion por su con­tribu­ción al mun­do de la música.
Su álbum debut Dust of Soul In Col­ors pre­sen­ta al can­tante y per­cu­sion­ista colom­biano Rodry-Go (famoso por actu­ar en el esce­nario con Car­los San­tana, Anas­ta­sia, Deep Pur­ple). Dust of Soul es cono­ci­do por mez­clas y com­bi­na­ciones audaces: en 2019 mez­clan Opera / Pop con Indi­an Rap, Break­dance, Beat­box­ing y Graf­fi­ti art. Dust of Soul fil­ma el video musi­cal en Dhar­avi (la mis­ma ubi­cación que Block­boast­er «Slum­dog Mil­lion­aire»). El lan­za­mien­to de Vic­to­ry con The Dhar­avi Dream Project Mum­bai obtiene más de medio mil­lón de visitas.
En 2020, Dust of Soul pre­sen­ta al actor indio de Bol­ly­wood Yash Choud­hary en «Smile» y al rap­ero indio Nox­ious D. (cono­ci­do por «Gul­ly Boy») en «Music Love». Ambos videos musi­cales fueron fil­ma­dos en Mumbai.
En 2021, Dust of Soul pre­sen­tó su segun­do álbum Won­der­land y luego comen­zó su «Won­der­land Tour 2021/2022».
En 2022, Dust of Soul lan­zará el ter­cer sen­cil­lo del nue­vo álbum con el lan­za­mien­to del video musi­cal: «Won­der­land» feat. Cortés Kim­ber­ly.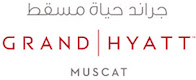 Sask­ia Stäuble
Telé­fono: ++41 (0)79 297 23 04
Michael Oder­matt
Telé­fono: ++41 (0)79 297 23 04
Sask­ia Stäuble
Telé­fono: ++41 (0)79 297 23 04