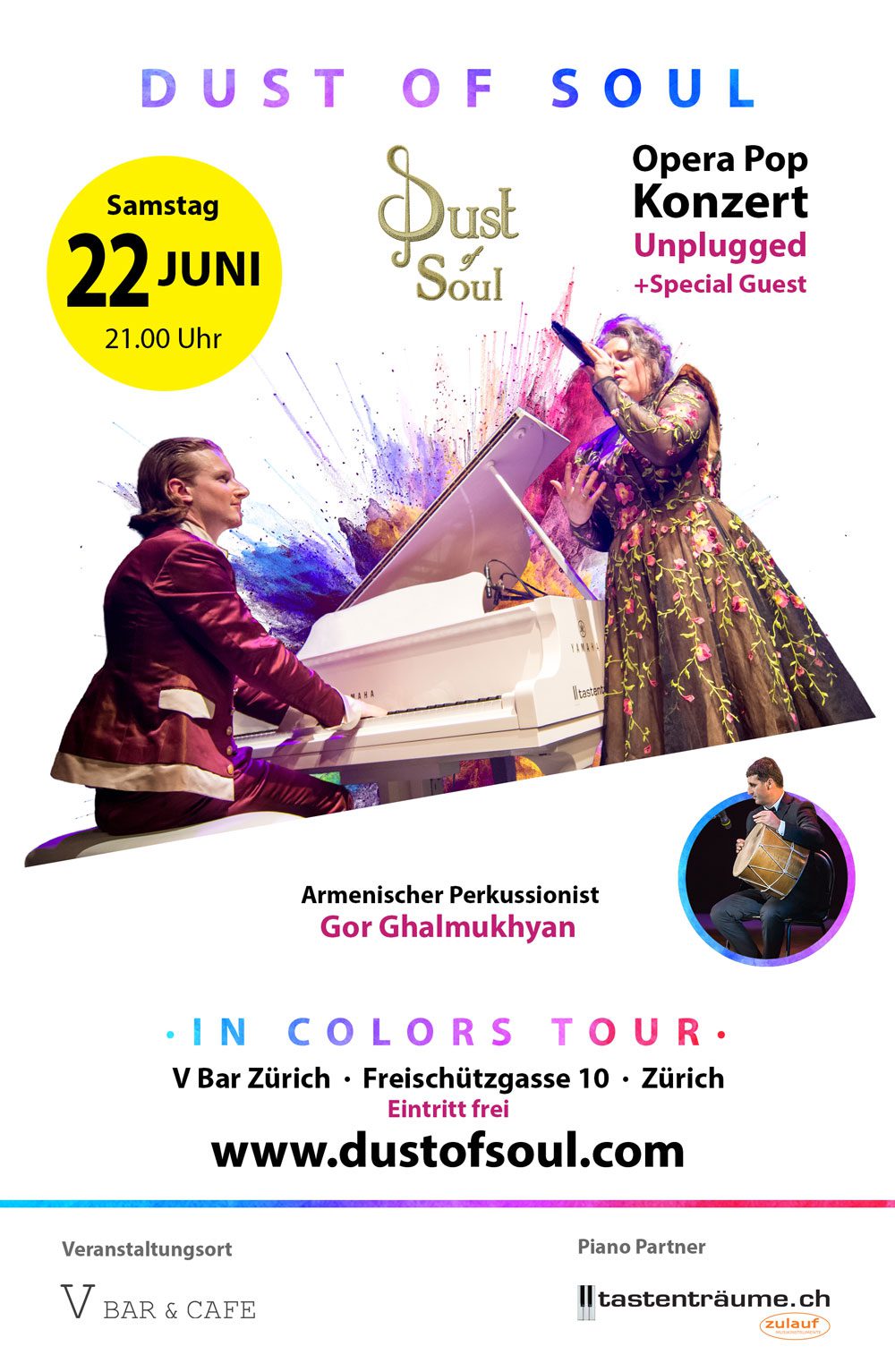 22 Jun 2019
9:00 pm - 10:30 pm

V Bar Zurich
Zurich – Switzerland
This event has already happened.
DUST OF SOUL FOR THE FIRST TIME WITH THEIR NEW ALBUM "DUST OF SOUL IN COLORS" UNPLUGGED LIVE TOGETHER WITH THE ARMENIAN PERCUSSIONIST GOR GHALMUKHYAN FROM THE ARMENIAN SYMPHONY ORCHESTRA. HE WILL GIVE THE 'OPERA POP' SONGS RHYTHMIK AND A HEARTBEAT. ARMENIAN FOLK WITH DIFFERENT STYLES (RAP, LATIN, CLASSICAL, INDIAN). THESE DARING COMBINATIONS TAKE YOU INTO A WORLD WHERE EVERYTHING IS POSSIBLE
The V Bar Zurich will host a very special premiere on Saturday, 22 June 2019: 'Opera Pop' unplugged with an Armenian musician – a concert of Indian, Latin, classical, and rap. The musician duo is known for a multi-faceted powerful voice and engaging touching melodies on the Grand Piano. Dust of Soul officially released their debut album "Dust of Soul In Colors" on 25 March 2019. Now the formation is on tour. Their "In Colors Tour" is coming to Zurich for the first time. Do not miss this intimate up-close concert of a completely different kind.
Concert starts at 9:00 PM.
Entrance
The entrance is free. There is a collection where you can pay as much as you like.
Piano Partner


A-Zulauf Musikinstrumente GmbH
www.tastenträume.ch
Venue
V Bar Zurich
Freischützgasse 10
8004 Zurich
Switzerland
Programm
Dust of Soul In Colors