The fight against COVID-19 is an unprecedented challenge for our global community, and public safety and well-being should always be a top priority. Health organizations and governments around the world had banned large public gatherings for an extended period of time. In many places, events are still very limited or bans continue to apply for the future.
In Switzerland, events with up to 1000 people are allowed again from 22 June. The Federal Council is now all the more appealing to our independent action. He asks us to continue to comply with the hygiene and distance rules. At the instruction of the health authorities to ensure the safety of people and to prevent the spread of COVID-19, we will discuss protection concepts for our event locations and inform you accordingly.
We thank you for your help and look forward to seeing you happy and healthy at our concerts.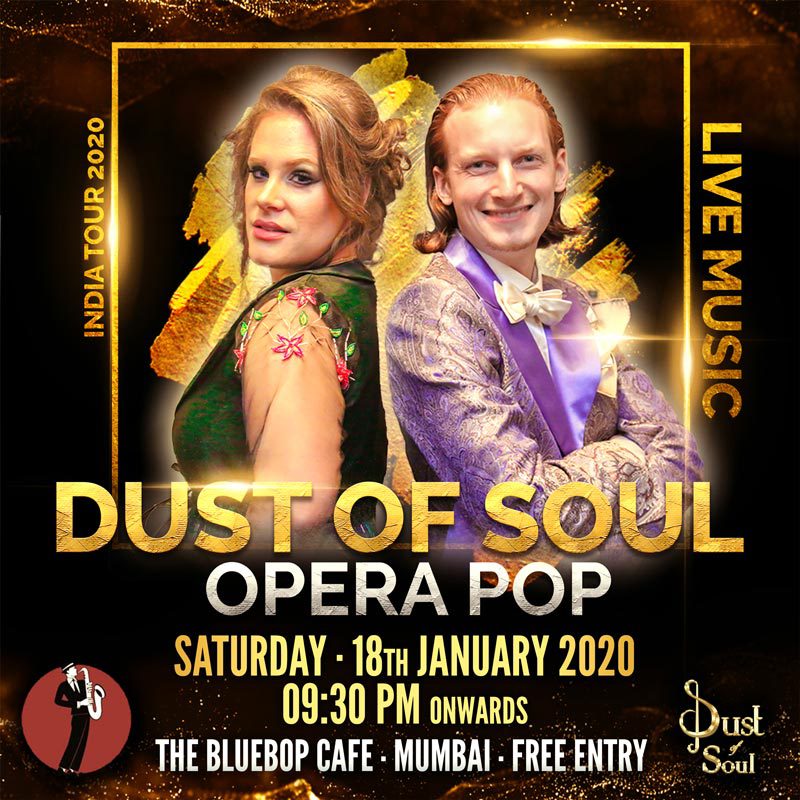 Saturday
18 Jan 2020
4:00 pm - 6:00 pm

The BlueBop Cafe
Mumbai – India

This event has already happened.
Dust of Soul introduces original 'Opera Pop' in India. As part of their India Tour 2020 they are performing at The BlueBop Cafe in Mumbai. Intimate unplugged performances mix with powerful performances. A fascinating show that you will never forget.
DUST OF SOUL BRING NEW FUSIONS THAT REFRESH, SURPRISE AND INSPIRE, SO THE FEEDBACK OF THE 2019 "IN COLORS" TOUR
«OUTSTANDING ARTISTIC FASHION STYLE. EXCELLENT STAGE PRESENCE. EXTREMELY DESCRIPTIVE. VERY INTERACTIVE.»
— Berklee College of Music & Sony Music, Finale of the European Music Contest 'Tour Music Fest'
Dust of Soul are known for their rich, multifaceted, distinctive voice and engaging and powerful melodies on the Grand Piano. Now they go one step further and mix different styles with their unique genre "Opera Pop": rap, classical, Indian, Latin. These bold combinations bring the audience into a world where anything is possible.
Concert starts at 9:30 PM.
Concert ends at 11:30 PM.
Artists
Dust of Soul
Dust of Soul, 'Opera Pop' duo
Entrance
Free entry
You can choose your seats directly at site.
The number of seats is limited. Therefore we advise you to reserve a table through the organizer.
Organizer
The BlueBop Cafe
Official flyer
Venue
The BlueBop Cafe
318, Linking Rd, Khar, Khar West
400052 Mumbai
India
Tour
India Tour