The fight against COVID-19 is an unprecedented challenge for our global community, and public safety and well-being should always be a top priority. Health organizations and governments around the world had banned large public gatherings for an extended period of time. In many places, events are still very limited or bans continue to apply for the future.
In Switzerland, events with up to 1000 people are allowed again from 22 June. The Federal Council is now all the more appealing to our independent action. He asks us to continue to comply with the hygiene and distance rules. At the instruction of the health authorities to ensure the safety of people and to prevent the spread of COVID-19, we will discuss protection concepts for our event locations and inform you accordingly.
We thank you for your help and look forward to seeing you happy and healthy at our concerts.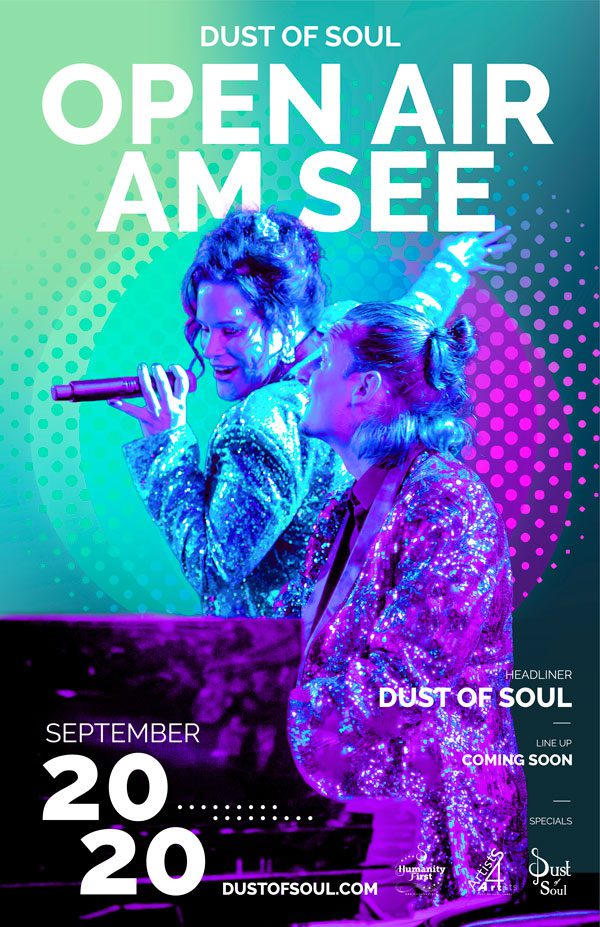 Saturday
05 Sep 2020
5:00 pm - 11:00 pm

Venue to be announced
Lucerne – Switzerland

POSTPONED! The concert is postponed to 2021 due to the new COVID-19 regulation of the Canton of Lucerne (valid since 17 July 2020).
THE DUST OF SOUL OPEN AIR AT THE LAKE 2020 IS NOT ONLY CELEBRATING THE 8TH ANNIVERSARY FROM 'DUST OF SOUL', BUT ALSO ITS HAPPENING AT THE 6TH YEAR IN A ROW. THIS IS A HUGE SUCCESS FOR A YOUNG, INDEPENDENT OPEN AIR. WITH THE LABEL #ARTISTS 4 ARTISTS IT IS A PLATFORM FOR INDEPENDENT MUSICIANS, DANCERS, PERFORMERS TO COME TOGETHER TO CELEBRATE ART AND SUPPORT EACH OTHER. THIS SUMMER, DUST OF SOUL WILL PRESENT A VERY SPECIAL OPEN AIR AT THE LAKE LUCERNE.
Also this year, Dust of Soul will be presenting a special Line Up for their Open Air introducing new and already known national as well as international artists. With last year's successes and grown popularity, this will be the biggest event ever since. Follow Dust of Soul over the coming months to find out more.
More information coming soon.
Artists
Dust of Soul
Dust of Soul, 'Opera Pop' duo
Promo Videos
Coming Soon
Entrance
Ticket Pre-Sale starts soon.
Ticketing Partner

Organizer
Dust of Soul
Official flyer
Venue
Venue to be announced
6000
Lucerne
Switzerland
Tour
In Colors Tour