The fight against COVID-19 is an unprecedented challenge for our global community, and public safety and well-being should always be a top priority. Health organizations and governments around the world had banned large public gatherings for an extended period of time. In many places, events are still very limited or bans continue to apply for the future.
In Switzerland, events will be possible again from 19 April 2021 if the measures and ordinances are observed. We keep you informed on this website about the Dust of Soul concerts.
The Federal Council now appeals all the more to our independent action. He asks us to continue to adhere to the hygiene and distance rules.
We thank you for your cooperation and look forward to seeing you happy and healthy again at our concerts soon.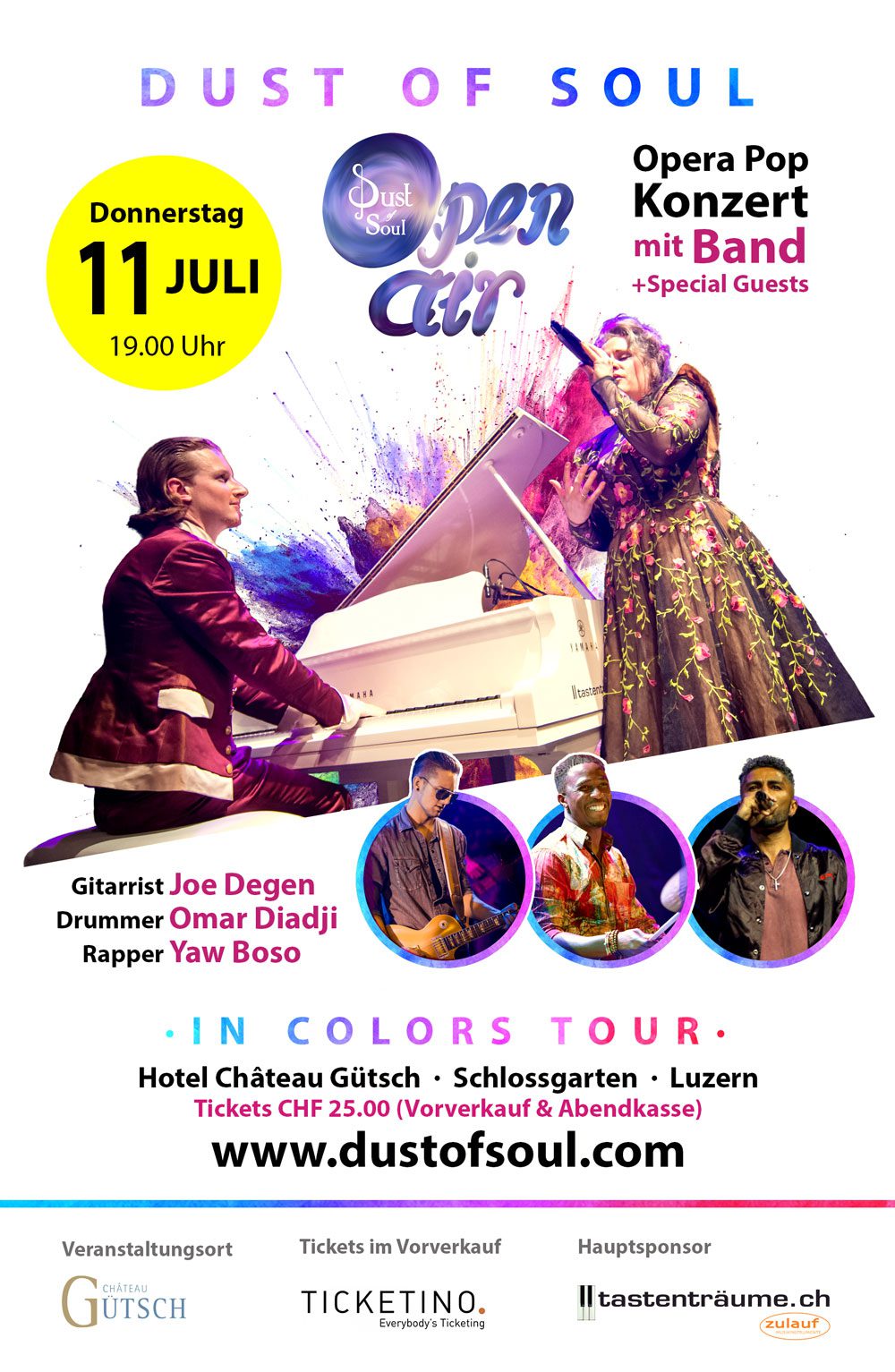 Thursday
11 Jul 2019
7:00 pm - 10:00 pm

Hotel Château Gütsch
Luzern – Switzerland
This event has already happened.
'OPERA POP' DUO DUST OF SOUL WITH BAND AND SPECIAL GUESTS. KNOWN FOR A MULTI-FACETED POWERFUL VOICE AND ENGAGING TOUCHING MELODIES ON THE GRAND PIANO. FOR THE FIRST TIME UNPLUGGED LIVE OPEN AIR IN THE CASTLE GARDEN OF THE CHÂTEAU GÜTSCH LUZERN.
After 110 successful live concerts around the world, the Swiss 'Opera Pop' duo 'Dust of Soul' released their debut album 'Dust of Soul in Colors' in March 2019. The 'Opera Pop' duo known for a multi-faceted powerful voice and engaging touching melodies on the Grand Piano have started their tour. Now they go a step further and mix different styles (Rap, Classic, Indian, Latin). These daring combinations take you into a world where anything is possible. This unplugged live open air show is happening for the first time in the castle garden of the Château Gütsch Lucerne.
Doors open at 7:00 PM.
Concert starts at 8:00 PM.
Artists
Dust of Soul, Joe Degen, Omar Diadji, Yaw Boso, u. v. m.
Tickets
Categorie 1 CHF 25.00 Adults from the age of 16
Cateogrie 2 CHF 20.00 Students / AHV / IV
Children up to the age of 15
Ticketing Partner

Venue
Hotel Château Gütsch
Kanonenstrasse
6003 Luzern
Switzerland
Tour
In Colors Tour