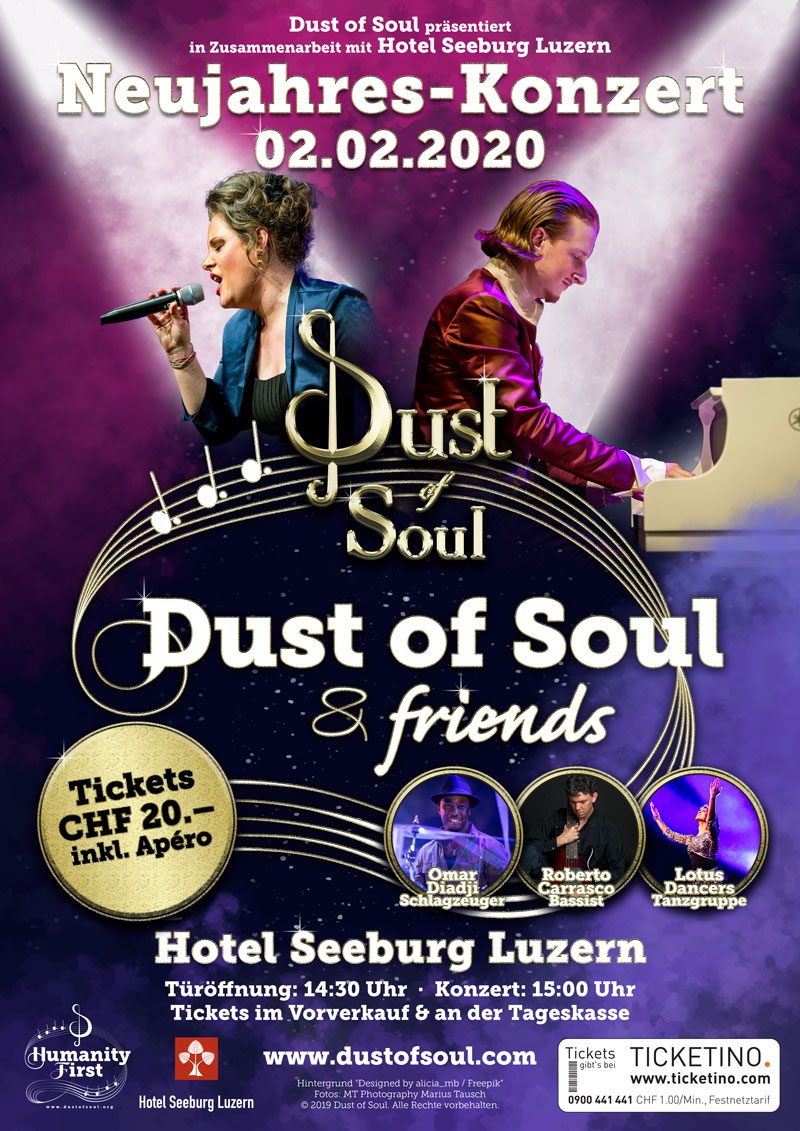 02 Feb 2020
3:00 pm - 5:30 pm

Hotel Seeburg Luzern
Lucerne – Switzerland
This event has already happened.
DUST OF SOUL ARE KNOWN FOR A DISTINCTIVE STRONG VOICE AND CONTINUOUS TOUCHING MELODIES ON THE GRAND PIANO. THEIR NEW ALBUM "DUST OF SOUL IN COLORS" SHOWS THEIR DIVERSITY AND CREATIVITY. EXPERIENCE DUST OF SOUL AT THE BEGINNING OF 2020 IN A NEW YEAR'S CONCERT IN THE PANORAMA HALL OF THE HOTEL SEEBURG IN LUCERNE
"Dust of Soul aim to give people strength to find their own way. Some listeners may therefore call their music "motivational music". No matter how it is called, the music is positive, powerful, inspiring, and touches the audience. What kind of music genre they are doing, Dust of Soul did not know for a long time. Not until a fan gave the right feedback: Opera Pop.
Modern music, but performed with a strong, multi-faceted voice.
In 2019, Dust of Soul has released a new album, but they prefer to perform live. The duo has begun to improvise their first song out of the mood of the audience. Frantic, exhausted, charged – Dusty and MiKey pick up these emotions, spontaneously turn them into music, bringing the audience into the here and now of the concert. This "Music Souling" is well received, even tears some and has become a trademark of Dust of Soul.
Spontaneously responding to their listeners is an example of how Dust of Soul's music introduces and implements: self-written, self-composed, with content that has meaning – for yourself and for the audience."
— Swiss newspaper «Neue Fricktaler Zeitung», 03.12.2019
Experience Dust of Soul at the beginning of 2020 live in a New Year's Concert in Lucerne in the panorama hall of the Hotel Seeburg in Lucerne.
Doors open at 2:30 PM.
Concert starts at 3:00 PM.
Concert ends at 5:30 PM.
Artists
Dust of Soul, Omar Diadji, Roberto Carrasco, Bollywood Lotus Dancers
Promo Videos
Entrance
Category 1 CHF 20.00 adults from the age of 16 year
Category 2 CHF 15.00 AHV/IV pensioners / students
Children up to the age of 15 years
You can choose your seats directly at site.
The number of seats is limited. Therefore we advise you to buy your tickets via Ticketino.
Ticket agencies require additional fees.
Tickets not sold in advance are available directly at the door.
Ticketing Partner
Organizer
Dust of Soul
Official flyer
Venue
Hotel Seeburg Luzern
Seeburgstrasse 53-61
6006 Lucerne
Switzerland
Programm
Dust of Soul In Colors